Matese And Murray
These two astronomers have come to similar conclusions about the existence of another planet in our Solar System through work done quite independently of one another. Dr Murray places the body, larger than Jupiter, in an orbit 32,000 AU, or 2.98 trillion miles from the Sun. Meanwhile, Dr Matese considers that the planet might be a brown dwarf orbiting at 25,000 AU. Their conclusions are drawn from their studies of the observed perturbations of the cometary cloud. In other words, the long-period comets' trajectories into the inner Solar system are non-random and best explained by the gravitational effect of a massive body sweeping through the Oort cloud, the spherical field of comets wrapping around our star system.
I am quite certain that this information will have triggered a renewed effort in the astronomical community to find Planet X. Which astronomer would not wish to go down in history as the discoverer of another planet around our Sun? Many would be openly critical of the predictions I am about to make regarding this celestial entity, but the conclusions I draw are scientifically based and quite precise. If they were proven accurate, then these findings would further support my other, more controversial speculations.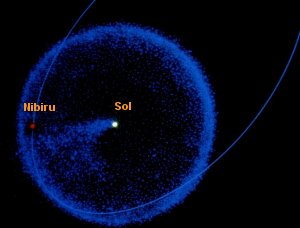 Brown Dwarfs
Dr Matese alludes to the possibility that the planet may, in fact, be a brown dwarf. Brown dwarfs were, until recently, only theoretical planet/star hybrids. Astronomers believe that they have now located some brown dwarfs, whose luminosity is so low as to make their detection extremely difficult. Essentially, they are the product of an accreting gas cloud that is several times more massive than that which eventually made Jupiter. Beyond a certain threshold of mass, reactions within this world lead to the emission of heat and a minute amount of light, but the body is still too small to set off the thermonuclear chain reactions that ignite a conventional star. They appear a dull red, contrary to the colour that their name would suggest, and do not increase beyond the spherical dimensions of Jupiter, despite having a greater mass.
They are thought to be relatively commonplace in the Universe, and their relative lack of appearances thus far reflect their dark star qualities. If one is in orbit around the Sun, then it is quite plausible that its detection by telescope has not yet occurred, so one can understand the paucity of tangible data from further afield. But as we become more able to detect and observe planets around other stars, so will our ability to observe this maverick in our own system increase.
The sensational aspect of all this is when one starts to consider this world as a very dim star, rather than a planet. The implication is that we are in a binary star system! Of course, the brown dwarf alluded to is not a star in the conventional sense, but it may emit enough light and heat to make possible moons around it life supporting. Considering its distance from the Sun in the extreme cold of the void, that possibility is an exciting one. It is certainly the case that any terrestrial planet that far from the Sun would not be able to support life on its own. An additional source of heat or light is required.
Okay, so such a finding would be an interesting astronomical discovery, but surely would have little impact on our lives in general. Well, that rather depends on whether there is some additional meaning attached to a brown dwarf orbiting the Sun. Last August (1999), UFO Magazine (UK) published a letter of mine proposing the future discovery of such a celestial body. I specifically predicted the discovery of a brown dwarf in the Oort Cloud. This proposal was in response to Alan F. Alford's critique of the existence of Nibiru, a concept that had been the basis of his own first book.
My prediction was based on ancient myth which described this member of our Solar System in sufficient detail to bear a close resemblance to a brown dwarf (See DarkStar2). Naturally enough, I was somewhat encouraged by the findings of the two astronomers published a couple of months later.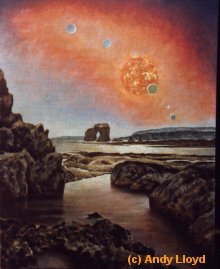 Sumerian Mythology
When most people think of ancient societies they tend to think of Greeks and Romans. Asked to think of times before that, they might offer the ancient Egyptians. Many are unaware that the first civilisations appeared in Mesopotamia, modern Iraq, some 6000 years ago. They may also be unaware of the fact that these first civilised peoples, known as the Sumerians, developed an advanced society, complete with cuneiform writing, a complex religion, advanced architecture, book-keeping, mathematics, medicine, astronomical knowledge and law. This civilisation appeared in vitro fully formed, rather like the ancient Egyptians emerging in the following millennium, whose earliest pyramid building created some of the finest monuments on Earth. These fully fledged civilisations, appearing out of nowhere, seem to many to point to an unknown, lost civilisation which passed its knowledge and experience down the ages in some way.
There are two possible answers to this dilemma, both wholeheartedly rejected by mainstream science. Firstly, the myth of Atlantis, and, secondly, the intervention by non-human intelligence. Science derides both of these ideas as fanciful rubbish, aimed at a mass audience who are prepared to part with their cash in exchange for a flight of fancy. Science probably has a good point when discussing many of the later civilisations and their mythology, many of which simply developed the Sumerian knowledge in a natural, evolutionary way. But the Sumerians were quite clear about where they got their scientific knowledge and social infrastructure from – the gods who lived on Earth before them. These gods were described in their historical records in a tremendous amount of detail, as if first hand knowledge existed of them.
This story is told by the scholar Zecharia Sitchin, who translated many of the earliest cuneiform texts, and stunned the world with his controversial interpretations. The Sumerian gods, known as the Annunaki, came to Earth in prehistoric times, from their home-world of Nibiru, with the intention of setting up a terrestrial base and mining gold, an essential commodity on their planet. Several hundred of them lived on Earth , cut off from Nibiru for all but one year in every 3600 or so.
They toiled away for tens of thousands of years until their sufferance lead them to innovate technologically. To lessen their workload they genetically engineered a hybrid of themselves and one of the local species of man-ape. These hybrid workers were humans, an intelligent, but sterile cross between the god-like extra-terrestrials and Earth apes.

In time, the Anunnaki tired of having to give birth to these IVF hybrids, and mankind was gifted with the ability to procreate. This was probably the biggest mistake the Anunnaki made, as mankind proliferated to threateningly large population levels. This account of our origins is clearly the Mesopotamian precursor to the Biblical story of the Garden of Eden.
In fact, the Sumerians called the land worked by humans E.DIN. Eventually, Mankind was almost entirely wiped out by the Flood, an event foreseen by the Anunnaki, who fled the Earth and watched the demise of their cities and their human slaves in utter horror.
They were able to predict the coming Deluge because it occurred as a result of environmental impact on the Earth caused by the passage of Nibiru. This may have been through accompanying cometary impacts causing a tsunami, or through the dislodging of the Antarctic ice cap, or possibly by global crustal displacement. This story has overtones of the Atlantean myth.
The Biblical Flood myth also has its Mesopotamian counterpart in that some of the gods, sympathetic of the coming catastrophic plight of mankind, warned a holy man called Ziusudra to build a submarine/Ark, and safeguard his family and livestock within it. The other gods, worried about the runaway success of mankind, had decided to leave their human slaves to their fate, as a convenient way of ridding themselves of the mounting threat.
Following the Flood, the shocked Anunnaki decided to allow the surviving humans to live on Earth and spread across the globe. In time, the power of the technologically superior, but vastly outnumbered, immortals waned on the Earth, mostly as a result of destructive in-fighting, and they largely returned to their own world. Man was left to his own devices, with only the gift of knowledge bequethed by his departing masters to show for their Lordly, but negligent parenthood. And so human history began, with the memory of the gods passing into myth with every successive generation. Only now, as modern science catches up with the prehistoric knowledge, can we recognise the true meaning of the myths, 250 generations later.