Puzzling Dust Rings in the Inner Solar System

For several years, I've been questioning widely-held assumptions about the part that dust and the interstellar medium might have in growing planets outside solar systems (1,2). This is important because most people assume that the conditions within the solar system, particularly the environment around the Earth, are the same everywhere else in the galaxy. When we look up into the night sky, we have a clear view out towards the planets, our Sun's neighbouring stars in the Milky Way, and even distant galaxies, and this gives the impression that space is, well, empty of materials which might obscure our view. There are dusty, gaseous areas in the galaxy, for sure - nebulae, star-forming regions, novae, full of immense, swirling clouds of materials. Although less prominent, there is dust and gas elsewhere too, in gigantic molecular clouds, and dark nebulae which are not illuminated from within by star-forming regions. These zones do obscure our view of the stars and galaxies located behind them (as seen from our vantage point). We also see the swirling disks of dust and gas around young stars. These protoplanetary disks bear within them the growing planets, accreting from the gravitational condensation of these clouds, and the piecing together of planetary components within these dusty construction yards (3).

Within the heliospheric envelope of our own Sun's domain, interplanetary dust is generally removed by a combination of drag and expulsion by the solar wind. What little remains can sometimes be witnessed as 'zodiacal light'. This diffuse presence of dust within the Earth's local environment makes determining the scant presence of dust elsewhere very difficult. Beyond the heliosphere, some 120+ AU away (opinions differ as the the precise border), the forces generated by the Sun are absent, and replaced by a galactic tidal stream containing the interstellar medium. It is not cleared away as efficiently as interplanetary dust within the solar system.

This is something to ponder, because questions about Planet X and other worlds beyond the heliosphere may be informed by these different environmental conditions. In a nutshell - Planet X is technically located in interstellar space, even though it orbits around the Sun. That may have implications, particularly over the lifetime of the solar system. After all, the Sun itself travels through the galaxy, and the environment it finds itself in at any given time will vary accordingly. It may pass through gigantic molecular clouds, dusty lanes in spiral arms (4), even dense nebulae. At these times, the protective heliosphere enveloping the Sun's domain is pushed backwards (it's a dynamic border, dependent upon the pressure from both sides). Objects in the solar system may be subject to significant immersion in the cosmic dust at these times, and I contend that this creates opportunities for continued and substantial planetary accretion. When it comes to undiscovered planets beyond the heliosphere, this interstellar medium may also accumulate around them, tugged into their gravitational zones of influence, and further obscuring their already difficult luminosities (5).

Now, it seems, even the inner solar system, bombarded directly by the solar wind, may retain substantial rings of dust (6). There are two new dust rings to consider, in a part of the solar system which should be relatively dust-free. One runs along Venus's orbit, which may have been created by hypothetical asteroids co-orbiting Earth's sister world (7). Even more remarkable is a ring of dust enveloping the Sun's closest planet, Mercury. Incredibly, this inner ring of dust is over 9 million miles wide (8). Theoretically, it shouldn't be there: Its discovery was made during observations aimed at viewing an entirely dust-free region!

""People thought that Mercury, unlike Earth or Venus, is too small and too close to the Sun to capture a dust ring," Guillermo Stenborg of the Naval Research Laboratory, Washington, D.C. said. "They expected that the solar wind and magnetic forces from the Sun would blow any excess dust at Mercury's orbit away."" (6)

And yet, even in this zone, dust accumulates. The dust around Venus's orbit is even more significant:

"Because it's dispersed over a larger orbit, Venus' dust ring is much larger than the newly detected ring at Mercury's. About 16 million miles from top to bottom and 6 million miles wide, the ring is littered with dust whose largest grains are roughly the size of those in coarse sandpaper. It's about 10 percent denser with dust than surrounding space. Still, it's diffuse -- pack all the dust in the ring together, and all you'd get is an asteroid two miles across." (6)

The source of this dust is mysterious - it is too plentiful and too enduring to be sourced from the usual suspects in the solar system (in other words, the minor bodies we know about). Which has led scientists to model how the dust may have survived from the earliest period of the solar system's history aided and abetted by the presence of undetected asteroids co-orbiting Venus (7).

Instead, I wonder whether this dust penetrated the inner solar system from outside, particularly during periods when the Sun travelled through dense regions of the galaxy? Our solar system is not a closed, isolated environment, which the computer models tend to assume (or, at least, negate). Intermittent immersion in dense clouds of interstellar dust could provide the material scientists are seeking as the reason for these dust rings in the inner solar system.

So what of the outer solar system, where the boundaries with interstellar space lie? What might accumulated dust clouds do beyond the heliosphere, when tugged into position by a considerably larger Planet X body? Could such a body also be the shepherd for its own extensive train of dusty materials? For the last decade, it has been known that clouds of interstellar material lie beyond the heliosphere, which NASA have dubbed 'local fluff' (9). Given the sheer scope of the inner rings of dust cohabiting the orbits of the inner planets, a similar ring occupying the orbit of Planet X would surely be immense. After all, its orbit is that much greater, as well as its gravitational power. Most importantly, though, is that the mechanisms removing that dust in interstellar space are that much less, certainly compared to the inner solar system!

Written by Andy Lloyd,

16th March 2019

References:

1) Andy Lloyd "The Shroud Hypothesis" 12th January 2015 http://www.andylloyd.org/darkstarblog22.htm

2) Andy Lloyd "The Cumulative Effect of Intermittent Interstellar Medium Inundation Upon Objects In The Outer Solar System" 02/2016, DOI: 10.13140/RG.2.1.5112.5526 https://www.researchgate.net/publication/293488683_The_Cumulative_Effect_of_Intermittent_Interstellar_Medium_Inundation_Upon_Objects_In_The_Outer_Solar_System

3) ALMA "ALMA Observes the Formation Sites of Solar-System-like Planets" 14 March 2019, https://alma-telescope.jp/en/news/press/dmtau-201903

4) Andy Lloyd "Down a Dusty Lane" 9th December 2016, http://andy-lloyd.com/down-a-dusty-lane/

5) Andy Lloyd "Darker Stars" Timeless Voyager Press 2018

6) NASA/Goddard Space Flight Center "What scientists found after sifting through dust in the solar system" 12 March 2019 https://www.sciencedaily.com/releases/2019/03/190312123629.htm

7) P. Pokorný and Marc Kuchner "Co-orbital Asteroids as the Source of Venus's Zodiacal Dust Ring". The Astrophysical Journal, 2019; 873 (2): L16 https://iopscience.iop.org/article/10.3847/2041-8213/ab0827/meta

8) G. Stenborg, J. Stauffer, and R. Howard "Evidence for a Circumsolar Dust Ring Near Mercury's Orbit" The Astrophysical Journal, 868 (1) https://iopscience.iop.org/article/10.3847/1538-4357/aae6cb/meta

9) Tony Phillips "Voyager Makes an Interstellar Discovery" 23 December 2009 https://science.nasa.gov/science-news/science-at-nasa/2009/23dec_voyager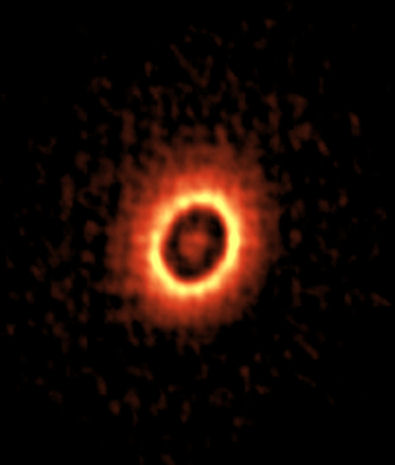 Image Credit: ALMA (ESO/NAOJ/NRAO), Kudo et al.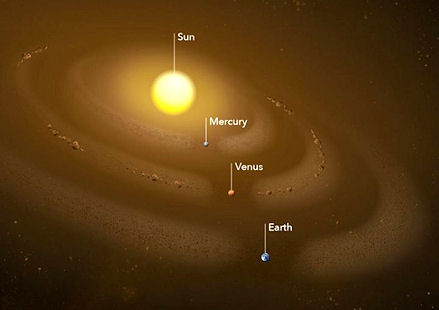 Image Credit: NASA's Goddard Space Flight Center/Mary Pat Hrybyk-Keith