Famous Faces
Here's a question I get asked every so often by fellow artists:
Dear Andy,
I came across your website whist researching portrait art, and firstly wanted to say how inspired I am by your work. I am an a mature artist, painting when I can, with a particular interest in famous faces, which is how I found yourself.
I wandered if I could be cheeky and ask you a question about copyright surrounding painting from other peoples photos. Although I am far from being in a position of selling any paintings, I am keen to learn more about the legalities surrounding painting photos-particularly of recognisable people, should I one day be in a position to be able to sell or exhibit.
My style of painting is realistic enough to recognise the photo in which I have referenced, and wandered what your process is for painting from photos not taken by yourself. I noticed on your website you have referenced Mario Testino a few times - did you have to contact him directly before painting any of his photos, or simply accredit him in the details of the painting?
Any light you may be able to shed on the subject would be very much appreciated!! :)
All the best, Alex
~*~
Dear Alex,
It is a good question, and I think it's not an easy one to answer. First of all, I try to gain permission where I can to work from photos, and certainly with social networking that has become a lot easier to accomplish (I use Model Mayhem as a conduit to models and photographers alike). But that becomes a lot more difficult with celebrities and famous photographers like Mario Testino, as they aren't as approachable. However, their work is already in the public domain, and celebrities are also, by definition, publicity-savvy individuals. Creating artwork of favourite celebrities is commonplace, and as far as I can see, goes largely unchallenged.
That said, such artwork does not usually earn the artist much, if any money. And I think that's why it's tolerated. Should an artist make a lot of money from their artwork of celebrities without their permission, then I can imagine that the celebrities, and their agents, would have something to say about it, and quite rightly so. The law would be on their side. I don't commercially exploit my work of celebrities in this way. Where I offer prints of my work, or offer digital 'tubes', I avoid using my celeb artwork. My originals are sold privately for what is, frankly, very little money in the great scheme of things - really it barely covers the expenses of being an artist.
In other words, by being a poor artist, I don't upset anybody. My Mario Testino pieces of Diana were created specifically for one chap I knew who collected them; who has since died, bless him. And my painting of Madonna, based on the same photographer's work, belonged to the singer herself for a while, before she left England and left it behind in the village she had lived near to. The person who then came into its possession wrote to me sometime after. No money ever exchanged hands as far as I can tell, and Madonna certainly never tracked me down with her lawyers! Some years ago, the publisher of a book of portraits of Madonna wanted the painting included, but I refused for the very reasons we're discussing.
I cannot advise you on how to proceed, except to say that as long as you don't financially exploit your talent at someone else's expense, I don't think there's any harm in it. That's common sense, rather than a strictly legalistic answer. But getting permission if you can is always the best policy, either way.
Andy Lloyd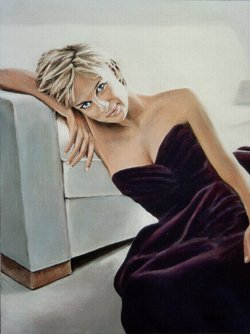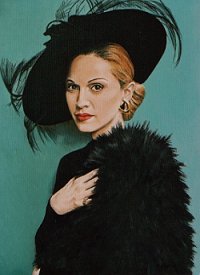 Nibiru and the Electric Universe Model
"I have not read all your writings yet, so maybe you've mentioned these things somewhere; if not, perhaps you might find these discoveries and this "electric universe" theory interesting, and fitting to your own ideas:

1. NASA is finding more "dark stars" closer to home, now that they are using infrared detection:
http://www.nasa.gov/mission_pages/WISE/news/wise20120608.html
2. Cool stars:
http://news.sciencemag.org/sciencenow/2011/03/cold-star-no-hotter-than-a-summer's.html
3. Life is MOST likely around a "brown dwarf" if you do NOT consider dwarf stars "failed" stars:
http://www.holoscience.com/wp/other-stars-other-worlds-other-life/
Cheers, Bill"
~ * ~
Hi William,

Thanks so much for your input. Although I was acquainted with the first two links, the third was new to me. I particularly liked this rather succinct précis of the brown dwarf properties:

"In the last few years a new class of faint stars has been discovered. They are called L-Type Brown Dwarfs because the element lithium appears in their spectra. They are the most numerous stellar objects in the galaxy and bridge the gap between stars and Jupiter-sized planets. They are too small to be shining from internal thermonuclear power. A further puzzle is that they radiate blue and ultraviolet light even though they are cool at a temperature around 950K. Water molecules dominate their spectra."

I'm no expert on the Electric Universe model, although many folk have sent me information about it before, and we discuss it on the Dark Star Planet X Google discussion board on occasion too. My current stance is that the brown dwarf in our solar system concept can, just about, sit within established physics. Given its outlandish claim already within that framework, I haven't tried to take things further by incorporating the Electric Universe ideas into my work. But, I also recognise that the E.U. framework would allow for the solar system BD to be a more realistic possibility. So I'm open to that as the science develops.
Andy Lloyd